Common Core Office
Directors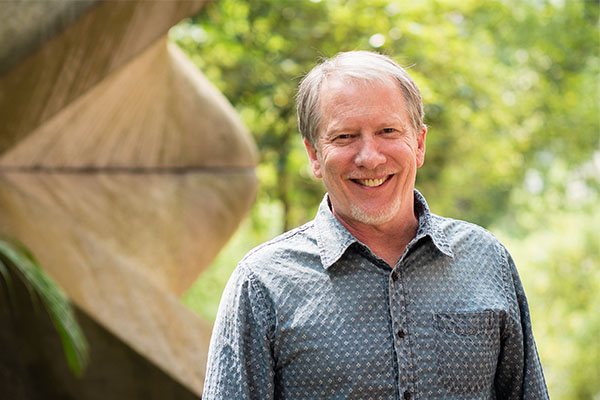 Director
Professor Gray Kochhar-Lindgren
Professor Gray Kochhar-Lindgren has been Director of the Common Core since June 2014. Focused on building an intersecting series of F2F, hybrid, and online learning platforms for both students and colleagues, he has coordinated efforts to expand the flexibility of course-types, enhance the interactivity of courses large and small, and to support students' co-curricular projects. The Common Core Team has expanded regional and global partnerships with the invention of GLADE (Global Liberal Arts Design Experiments), the facilitation of CLASS (China Liberal Arts Summer Sessions), and participation in the HKSCC (Hong Kong Sustainable Campus Consortium). Currently, there is a deepening attention to building out student peer-mentors and to expanding interdisciplinary undergraduate research opportunities through initiatives such as Critical Zones: Gender, Cities, and Well-Being (based on three of the UN's SDGs). An HEA Principal Fellow, he also served as the Team Lead for a UGC and HKU Outstanding Teaching Awards (Team) for Transdisciplinarity-in-Action and is a member of the first cohort of HKTEA (Hong Kong Teaching Excellence Alliance).
With a PhD in Interdisciplinary Studies, Professor Kochhar-Lindgren's scholarship focuses on cross-disciplinary learning in the global university and how philosophy, the arts, and social theory intersect with urban space. Recent publications include Urban Arabesques: Philosophy, Hong Kong, Transversality (New Critical Humanities Series, Rowman & Littlefield International); "Scintillant@the University of Angelic Invention," A World Is Born Here: Thinking the Contemporary with Michel Serres. Ed. Rick Dolphijn. London: Bloomsbury; and, with Kanta Kochhar-Lindgren, "Wild Studios: Art, Philosophy, and the Transversal University," Transversal Studies in Globalisation and Education. Eds. David R. Cole and Joff P.N. Bradley. Springer Publications. Prior to joining HKU, Professor Kochhar-Lindgren served as the inaugural Associate Vice Chancellor for Undergraduate Learning and Professor of Interdisciplinary Arts & Sciences at the University of Washington-Bothell.
---
Office Administrative Staff
Contact Information
Address:
Common Core Office, The University of Hong Kong
Room 136, 1/F, Main Building, The University of Hong Kong
Pokfulam Road, Hong Kong
Tel:
(852) 2219 4957
Fax:
(852) 2858 5745
Email:
commoncore@hku.hk
---
Common Core Lounge
The Common Core Lounge is located in Room 150 on 1/F of the Main Building. The facility is a common space for students and teachers to gather before and after their CC tutorials or other lectures for further discussion. The space is also used for showcasing students' exemplary projects and assignments in CC courses.