Greetings to Students
Dear Friends,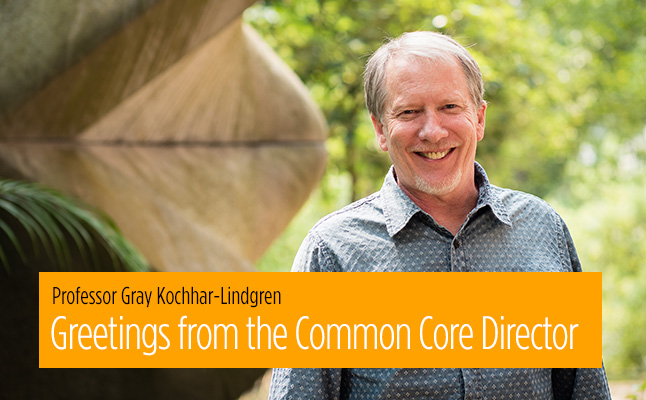 Welcome to the Common Core! Required of all HKU undergraduates, the Core encourages you to explore, experiment, jostle with the unfamiliar, and to make a positive difference in the world around you.
The Core will accompany you as you travel the pathways of the unexpected and begin to see connections between genomics and poetry; politics and nanotechnology; surveillance and entertainment; the environment and gender; sexuality and economics; philosophy and globalization; the city and the countryside; media and the virtual; painting and cosmology; and east and west and north and south.
Why bother with this type of interdisciplinary and interactive learning rather than just focus on the major? First, the Common Core addresses the demands of the 21st century workforce for graduates that possess a more developed set of "core competencies" such as communication, critical thinking, collaboration, and creativity. Secondly, the Core exposes you to important cross-disciplinary knowledge that connects topics across differences instead of narrowing them to ever greater degrees of specialization (which is also essential). This will allow you to become a more effective global and local citizen, as well as prepare you for the dynamic changes occurring in the workforce.
Especially in the times of COVID-19, the rapid movement into and out of a digital learning environment, and the immense questions about "what comes next," the Core offers you a learning laboratory in which to deepen your imaginations and hone your skills in preparation for whatever forms of life do emerge from our vexed present. And to do this will all the support possible from your peers, your teachers, and the Common Core staff. Don't hesitate to ask questions and reach out!
What is your passion? What do you need to learn to develop the multiple dimensions of that passion? How can you plan your courses and co-curricular activities accordingly. Bring all you can to your University experience: your intensity, your desire to know and to do, your anxieties, your questions, and your dreams. You will, I promise, make new friends across all the Faculties and discover things you haven't even imagined. Explore.
Be in touch with us and remember to create the Common Core that YOU want!
All the very best,
Gray
Gray Kochhar-Lindgren, PhD
Professor and Director
The Common Core