Common Core Lounge – A Place for Discovery
The Common Core (CC) Lounge is located in Room 150 on 1/F of the Main Building. The facility is a common space for students and teachers to gather before and after their CC tutorials or other lectures for further discussion. The space is also used for showcasing students' exemplary projects and assignments in CC courses.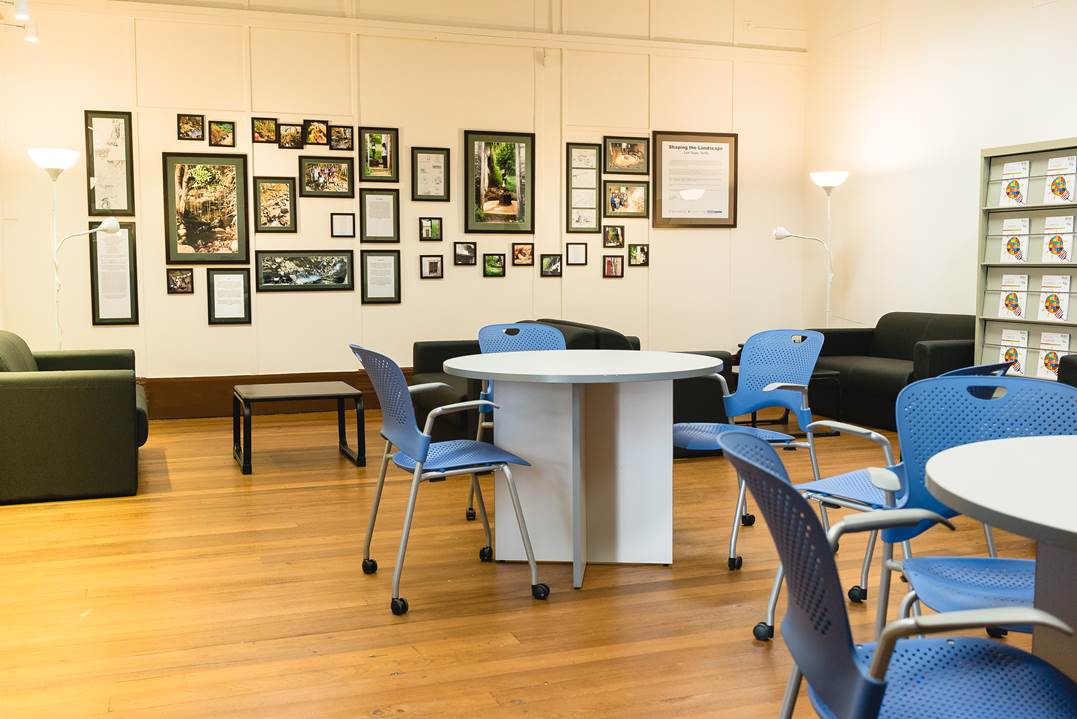 Opening Hours
Monday – Friday: 09:00 – 17:30
Saturday, Sunday and Public Holidays: Closed
User Rules and Guidelines
The CC Lounge is a common space for students and teachers. It is NOT open to the public.
Users may be required to show their university cards for identification purpose. Inside the CC Lounge, users must exhibit respectable behavior, and must not jeopardize the rights of other users of the facility. While interactions and group discussions are encouraged, such activities should be carried out in a manner so as not to cause undue disturbance to other users. The following is a list of Rules and Guidelines which users of the CC Lounge must observe:
Animals
Animals and pets, except service animals assisting disabled persons, are not allowed in the CC Lounge.
Cell phone
Keep your voice down when using cell phones.
Closing time
Users are expected to leave the CC Lounge when the closing time is reached.
Clothing
Users must wear appropriate attire at all times when inside the CC Lounge.
Food and Beverages
Please help us to ensure a clean and safe environment for users, and to aid in preservation and care of the exhibits in the CC Lounge by observing the following policies:

Only small packaged snacks and beverages may be consumed in the CC Lounge.
Alcoholic beverages must NOT be brought into the CC Lounge.

Users who fail to adhere to the above will result in the offender being asked to leave the CC Lounge.

Gambling
Gambling is strictly prohibited at all times in the CC Lounge.
Lost and Found
Lost and Found items will be passed to the University's Security Office.
Personal Property
Users are responsible for their personal property at all times and should never leave personal belongings unattended.  Thefts of laptops, purses, phones, backpacks, jackets, etc. may occur.
Posters
Posting of posters inside the CC Lounge is forbidden unless prior approval has been given by the CC Curriculum Office.
Sleeping
Sleeping is not allowed in the CC Lounge.
Smoking
Smoking is prohibited in the University campus.
Soliciting
In order to respect the privacy, security and comfort of all CC Lounge users, soliciting is not permitted unless prior approval from the CC Curriculum Office has been obtained.  This applies to requesting of money, services, favors, goods, opinions and signatures; petitioning; interviewing; and selling of any products or services.
Safety
Evacuation Procedures
When you hear a fire alarm or voice announcement, follow the following –

Stop what you are doing immediately.
Leave the Main Building quickly and calmly by the nearest emergency exit.
Do not use the lift.
Stay away from the building, and do not re-enter the building until the "all-clear" has been announced.

First Aid
If there is an accident in the CC Lounge, please call 3917 2882 (24-hour hotline of the Security Office) or 999 (Police emergence call centre) as appropriate.