Global Liberal Arts Design Experiments
The laboratory is now wide open for new discoveries.
~Bruno Latour, An Inquiry into the Modes of Existence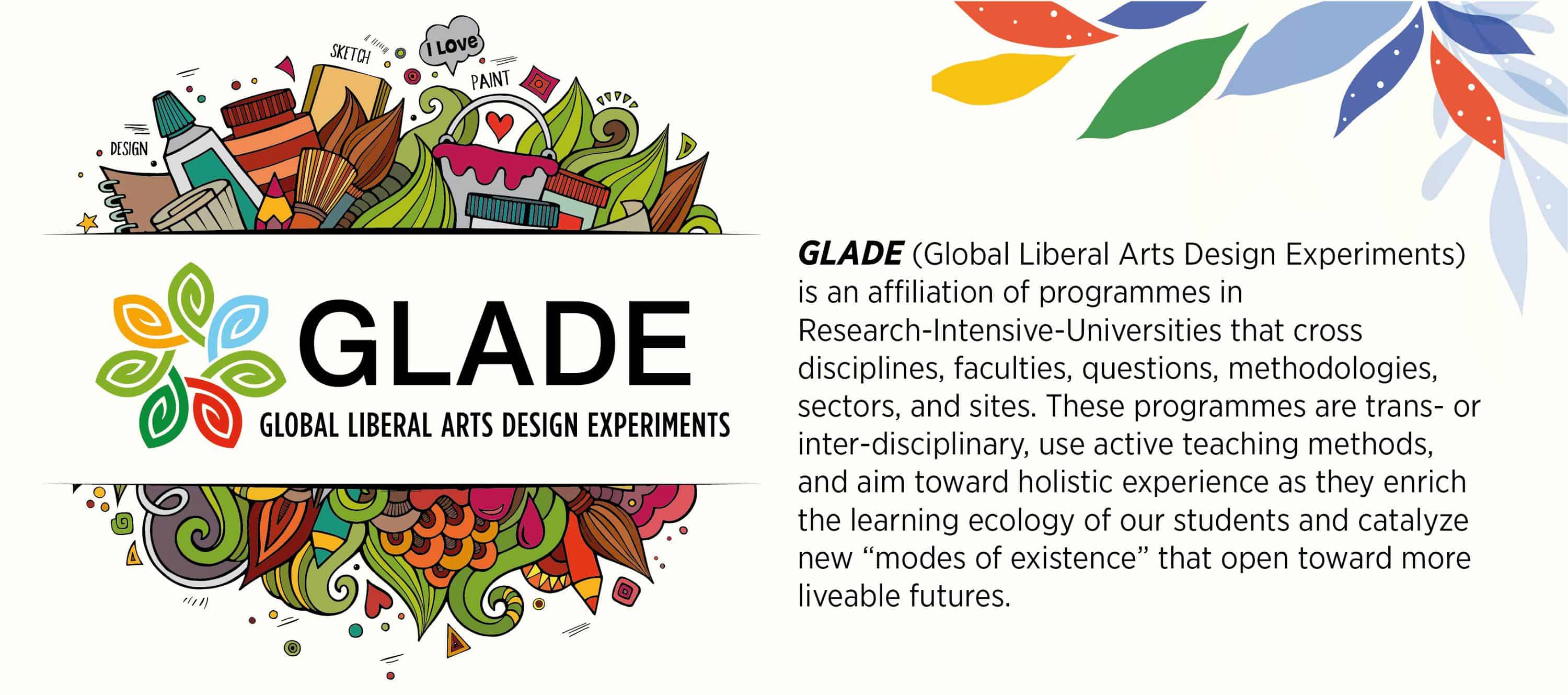 Common Core
University of Hong Kong
http://commoncore.hku.hk/
Hosted by
Gray Kochhar-Lindgren
Professor & Director
gklindgren@hku.hk
---
GLADE Symposium 2019 Participants
GLADE Zoom Days 2020 Participants
GLADE Zoom Days 2020 Suggestions for Next Steps
---
Message from Professor Gray Kochhar-Lindgren
12 January 2021
Dear Friends,
Strange year, heh? Everyone is still scrambling and doing the best we can with combinations of F2F, Hybrid, and online learning. We're working to connect with students, keep our families and ourselves as safe as possible, and think beyond the immediate moment to the long-term structural, social, and individual implications of the aftermath of COVID.
As you know, GLADE (Global Liberal Arts Design Experiments) was invented to connect holistic and cross-disciplinary undergraduate programmes in Research Intensive universities with one another as a means of mutual support; an exploration of ways of learning that matter deeply to students, colleagues, and communities; and as a means of finding ways to position ourselves on the experimental edge of a newly emerging form of higher education.
As Michel Serres reminds us in Thumbelina, we are dreaming of a university "whose space is mixed and multi-colored, striped like a tiger, blended in different shades, dyed with numerous pigments, twinkling like starts—real like a landscape" and are all now riding the wave of COVID to try to (re)invent a more vibrant and effective form of the a poly-centric university that, simultaneously, coheres with itself and diverges in infinite directions. It's a challenge, but enormously important. Worth the work and play.
Here in the Common Core@HKU (https://commoncore.hku.hk/) we—like all of you—are trying out an array of different responses. With terrific support from our Centre for the Enhancement of Teaching and Learning (CETL) and Technology Enhanced Learning Initiative (TELI), the Core has gone primarily online for this upcoming semester. Almost no one is completely satisfied with this arrangement and it puts additional strain on both teachers and students, but we are getting incrementally better at the tasks at hand.
We're developing new course proposals for Scientific & Technological Literacy, Arts & Humanities, Global Issues, and China: Culture, State, and Society, as well as offering 80 courses this semester. We've created new transdisciplinary minors in The Human Lifespan, The Creative Arts, and Gender, Sexuality and Diversity to add to Sustaining Cities, Cultures, and the Earth and the Quest for a Meaningful Life.
We also have a number of initiatives underway, including:
There's no shortage of work, great ideas, dedicated students, and committed creative colleagues.
What are you working on that most excites you? How might GLADE partners profit by learning more about your initiatives? What would you like to offer to the next iteration of the university?
We at HKU are wishing all of you well: that you might stay safe, and, in both expected and unexpected ways, keep thriving amid lockdowns, vaccines, illness, and confusion. It's certainly a time for thinking about all the interconnected facets of the world, about how we might establish different relations with all of our human and more-than, other-than human partners, and about how we might best support our students as we move into 2021.
All the very best,
Gray
Gray Kochhar-Lindgren, PhD
Professor & Director
Common Core: https://commoncore.hku.hk/
Principal Fellow: Higher Education Academy
+852 2219 4956