Universitas 21 Real Impact on Society and Environment (RISE)
Competition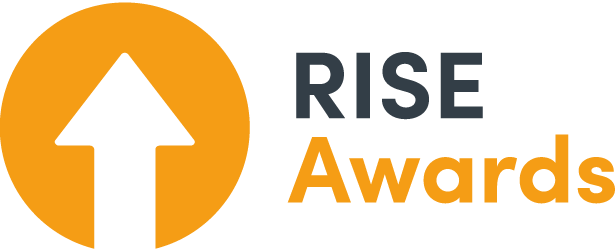 Application period: 1 February 2023 – 8 March 2023
Selected projects for final submission will be announced on 22 March 2023
Rise (Real Impact on Society and Environment) is an international video competition for student teams to showcase their projects related to sustainability and social innovation. Winning teams will be awarded a prize of USD 2,000 each, together with access to a global network of experts in academia and industry to help scale their projects.
Project: LEAN Social – Virtual Work & Study Space for GenZ –
Winner of the Most Collaborative Award
Team: Ky Nam Nguyen, Fanyin Yang and Zi Hao Lam
Project: DropaPad
Team: Wing Tung Gloria Ng, Ka Yi Lee, Ar Wou Joivia So, Charlotte Theodora So and Cheuk Ying Tse
Project: AILEMapp – Winner of Provost's Award
Team:  Xinyao Liu, Venus Yick & Christina Zhao
Project: Catering Care
Team: Yan Ping, Sammie Ng, Wai Yiu Ryan Hoi, Yi Lam Yvonne Hui, On Ni Lui, Ching Ho Wong & Hoi Shan Kwong
Project: Art Apart
Team: Alya Prasad, Di Heng, Tsev Siddhant, Darpan Ningoo, Priscilla Fong, Benjamin Harris & Elicia Neo
More information about the projects on the Student Learning Festival 2020-2021 Page.
Project: The Eczema Eradication Project (TEEP)
Team: Harrison Li, Alan Yau, Vincent Chu, Joann Ng, Keshia Kung, and Rosy You
Benefits of participating
Participants will:
Gain experience in creating a powerful video project and include this in your portfolio

Have the opportunity to win one of four USD2,000 for their project

Be given the chance to network with fellow entrepreneurs

Receive personalized feedback from the professional HKU RISE Mentors that will help to improve their project
In addition to the above, those nominated to the RISE showcase will:
Be part of a cohort of finalists from across the world

Take part in a bespoke development package for student entrepreneurs

Receive a certificate recognizing their achievement as a RISE finalist

Have the opportunity to receive pledges of support from the U21 global network

Gain feedback on their project from experts in the field

Become part of an alumni network of global social innovators
If you have a voluntary, social enterprise or environmental project that you would like to showcase, scale up, develop, and build, then RISE is for you! 
To submit your entry, complete the Application Form and submit this to commoncore@hku.hk.
To find out more, visit the official U21 RISE website.
For the preliminary selection process, students teams should submit i) a short video, together with ii) an analysis explaining how the project is related to at least one of the Sustainable Development Goals (SDGs) and the relevance of the project to the future development of societies.
From the preliminary entries, Common Core will nominate up to four (4) undergraduate student projects, two of which can be cross-institutional entries, for showcase into RISE. (The students must come from a U21 member institution)
After being selected, teams will then have one month to work on their final (pitch) videos for formal submission to RISE.
What projects can be entered?
Your project must directly address at least one of the United Nations Sustainable Development Goals. These aren't just about environmental action, they cover almost every aspect of environmental and societal development. In practice, most non-profit and social innovation projects will already be addressing at least one goal, even if you didn't realize it!
The project should be at the development stage, not just an idea. There needs to have been some positive actions taken to turn an idea into reality.  However, that doesn't mean it has to be a fully-fledged enterprise or small business. Ideally you should already have a prototype or minimum viable product.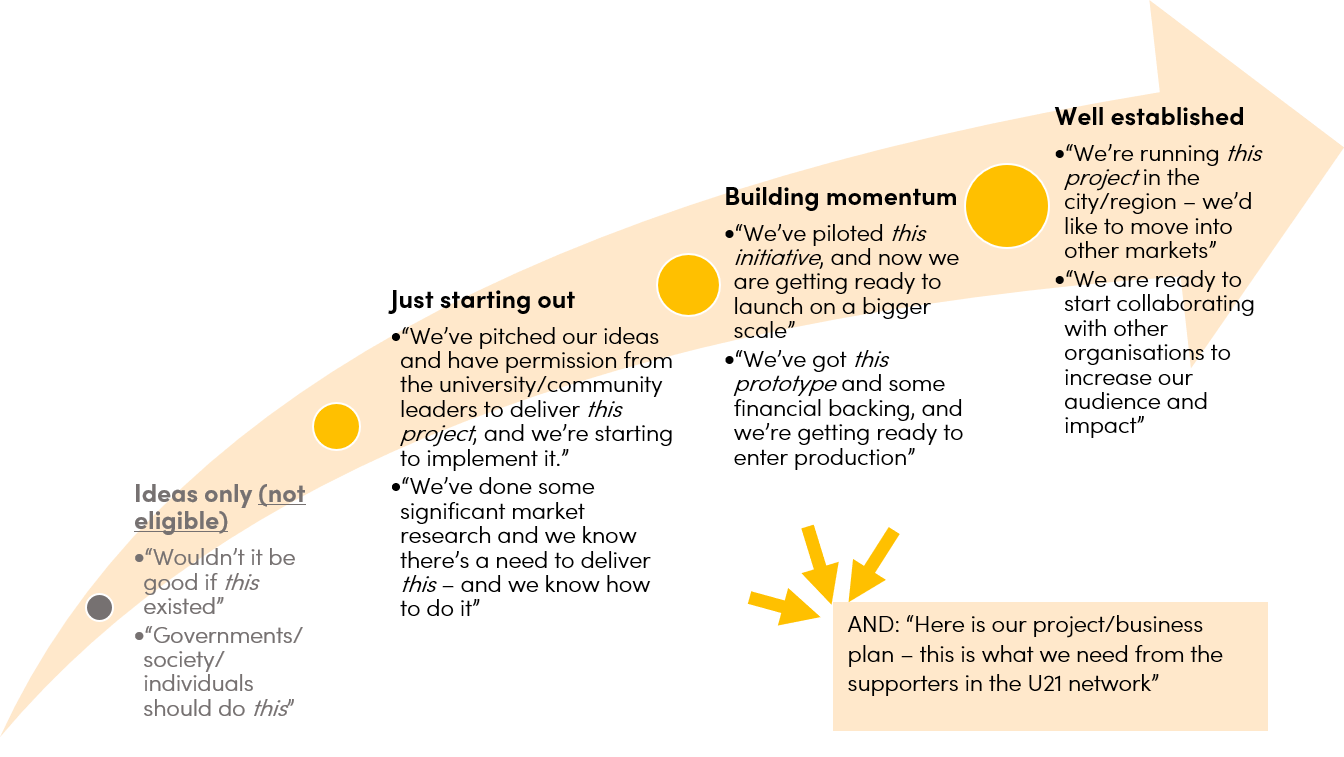 Important Notes
Projects may have already applied, or be in receipt of other funding or awards, but these MUST BE DISCLOSED upon entering RISE.

The video submission to RISE must be an ORIGINAL PIECE OF WORK that is NOT PUBLICLY AVAILABLE ELSEWHERE.

Video submissions must be the STUDENTS' OWN WORK.

Entries may be submitted in any language but ALL MUST INCLUDE ENGLISH SUBTITLES (INCLUDING ENGLISH SUBMISSIONS).

Video presentations are RECOMMENDED TO BE WITHIN 3-5 MINS' DURATION.

VIDEOS OF MORE THAN 5MINS WILL NOT BE ACCEPTED.

File format must be MP4 or .MOV

By submitting an entry to RISE, students are acknowledging that their ideas and enterprises will be made publicly accessible and share with industry professionals.

Number of group members: Minimum: 3, Maximum: 7 

Your project must directly address at least one of the 

United Nations Sustainable Development Goals.

Late submissions will not be entertained.