HER One Day in HK during the Pandemic
The Common Core organised this co-curricular programme to explore women's experiences of COVID-19 in Hong Kong in relation to gender equality. Through workshops and fieldwork interviews, students gained an understanding of the experiences of women and gender equality in Hong Kong during the time of the pandemic, while developing research and storytelling capacities. Specifically, the programme:
Explored the concept of gender, the meanings of "woman", diversity of women, and what the experience of living as a woman is like in HK.

Developed students' understanding of gender inequality in HK.

Enabled students to reflect critically on the impacts of Covid-19 on women and gender equality.

Increase gender sensitivity in conducting research.

Enhanced the everyday practices of students regarding gender equality.

The opportunity is available to all undergraduate students.
Each students invested 25 hours of total work into the project and produced digital stories and transcripts and analysis based on their interviews.
Below is a selection of student works from the project.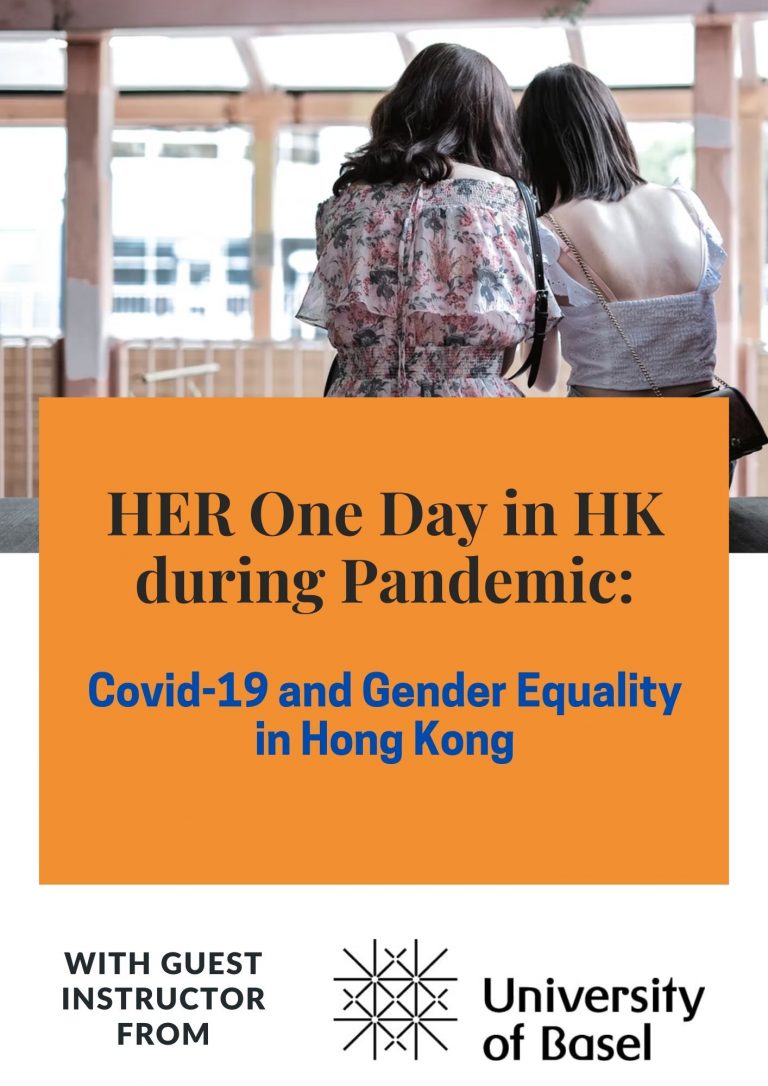 Instructors/ Facilitators:
Chi Zhang is a Research Assistant at the Common Core Office. She obtained a Master's degree in Gender Studies from CUHK, and has been learning and researching gender issues, and in particular young men's friendships in Hong Kong. For a short while, she served as a junior consultant for the Gender Programme at United Nations Population Fund. Her main research interests include gender, critical studies on men and masculinities, (pro)feminist men, and friendship studies.
Anika Thym is a PhD researcher at the Center for Gender Studies, University of Basel. Her research interests are in critical studies on men and masculinities, critical social theory, gender theory, feminist critique and politics, social studies on finance, care and reproduction, gender equality and diversity in higher education. She is currently working on a project titled Hegemony and Critique: A Study on Critical (Self)Reflections by Men in Leading Positions in the Financial Sector.
Patrick Desloge is a Senior Lecturer in the Centre for Applied English Studies at HKU where he has been working in the area of education technology for nearly two decades. In recent years he has taken on two large projects: As the Director of the Nurturing Global Leaders (NGL) programme funded by a grant from the Hong Kong Jockey Club, he oversees more than a hundred HKU and local youth who engage with marginalized youth in Thailand, Myanmar and Cambodia (and Mainland China in 2018) by working as volunteer interns teaching English as a Second Language. This project intersects with his second area of interest, digital literacies, where he is investigating the potential of digital media as a mechanism to assess experiential learning.

Jack Tsao is the Associate Director of the Common Core. He obtained his PhD from the University of Queensland in the sociology of education, investigating youth aspirations. Jack's current research focuses on comparative and international education, youth culture, practice theory, and the sociology of education, grounded through an interdisciplinary lens. Jack has an extensive background in organisational learning and development, commercial banking, and entrepreneurship, occupying various leadership roles.