TransDisciplinary Undergraduate Research Initiative
The TransDisciplinary Undergraduate Research Project is an opportunity for an individual or small groups of undergraduate students to pursue funded research on a topic of their own choosing. The project will be supervised by a Faculty mentor, with a duration of between 6 weeks to 6 months.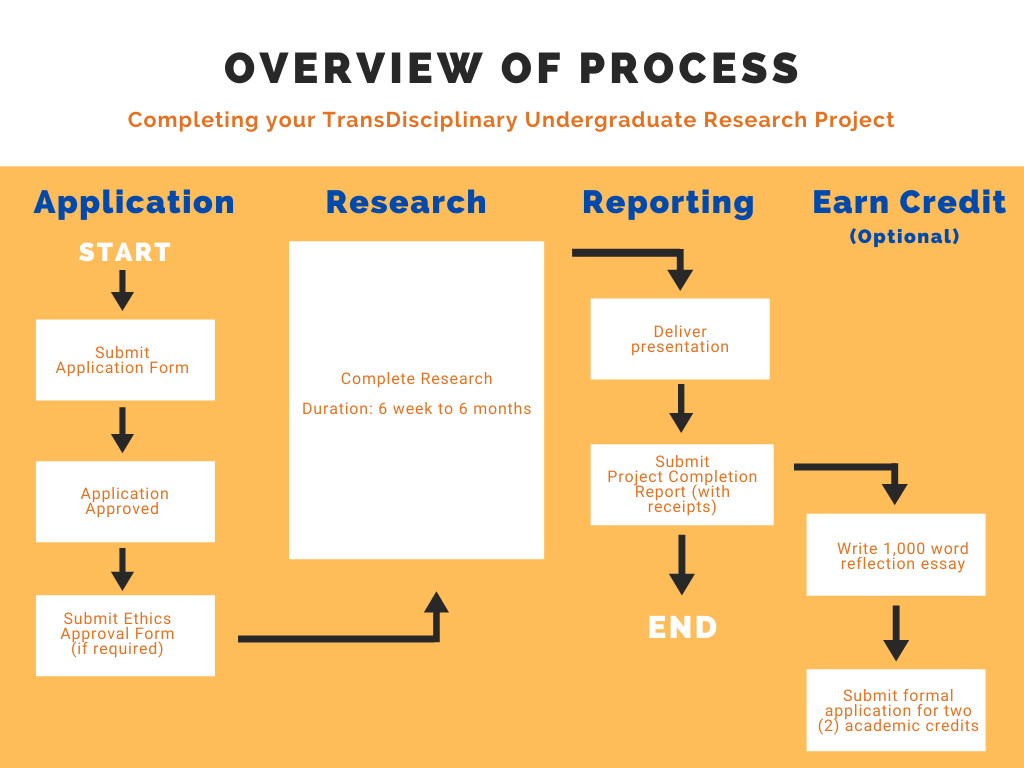 wHAT IS RESEARCH AND TRANSDISCIPLINARITY?
Research, as the practice of cultivating curiosity and responding in a structured manner to the questions that take shape around that curiosity, is essential to the experience of the Common Core and to your own personal and professional development.
Transdisciplinarity, in this context, is simply that idea that research occurs from the first moment you step onto campus and across the types of questions and methods of inquiry that motivate, in different ways, all 10 of HKU's Faculties.
Open to First to Final Year Undergraduate Students

Funded Research Projects HK$500 – $5,000 (for exceptional proposals, the Selection Committee will consider larger or smaller amounts).

Work individually or collaborate with a small group of peers.

Virtual & Physical Options (Conditions Permitting)

You will also need to nominate a Faculty Mentor as an advisor for your research project.
2021-2022 Applications Closed
How To Apply: Complete the application form below and send it to commoncore@hku.hk. Late applications will not be accepted.
Eligibility: For First Year To Final Year Undergraduate Students Only
Suggested Project Duration: Between 6 weeks to 6 months.
Type of Research: Your project can be funded/unfunded, empirical/theoretical, individual/group, academic/community, involving any fields and any forms of research activities that you are interested in. Choose the research and presentation format that most moves you forward on your own projects of importance.
Approval Criteria: Proposals will be reviewed by the Common Core on the basis of creativity, feasibility, and potential for impact, and must be transdisciplinary.
Application Vetting: You project will not be accepted if:
Your project duplicates, or is too closely aligned, with your Final Year Project or any assessments for course work

Your project has already received another source of funding

Your application form is incomplete. (Please be reminded to sign and ask for your Faculty Mentor's signature.)

Your project cannot be completed within 6 months.
Approval Outcome: Common Core will inform the applicants whether their proposals have been accepted, rejected, or a revision.
All students will deliver a poster presentation (either virtually or physically) for the Common Core and others upon the end of projects

The above completion report should include a clear project financial breakdown, with receipts (original copies) of individual expenses items attached. A template of completion report will be provided by the Common Core.
Students can use the grant to cover expenses. The following are examples and categories that may be approved on a case-to-case basis: for research materials, certain types of equipment, printing, travelling to remote research fields sites within Hong Kong, and poster  and presentation materials.

Examples of expenses that CANNOT be covered include: entertainment or accommodation expenses; any form of salaries and wages for helpers; journal publication fees; any form of reward/ prizes (including to participants of a survey); hardware and software that can be accessed through HKU or other channels with no charges imposed; and other forms of equipment purchases except under special circumstances

Funding will be provided to students in form of reimbursement upon the Common Core's receipt of a full completion report from students on the research study and its findings after the project has completed.
TransDisciplinary Undergraduate Research projects have been pre-approved for two (2) non-graduating academic credits. This will appear on your Academic Attainment Profile (AAP) once your formal application is approved.
After submitting the Project Completion Report, students can make a formal application by completing the online form and submitting a 1,000 word reflection essay.
The reflection essay should outline: 
An overview of the experience /activity
The outcome or deliverables, including what has been learnt, the difficulties encountered, the achievement of the intended learning outcome, and the impact on personal, professional and/or career development.
Application must be submitted by the end of the academic year in which the project concluded.
Students will be notified of approval, and the research activity will appear on the student's transcripts.
The Common Core is here to help facilitate the process at every step of the journey, so do not hesitate to ask questions at commoncore@hku.hk.