Untitled: A.I. and Transformations to Teaching and Learning
14 December, 2022 @ 10:00 am

-

11:00 am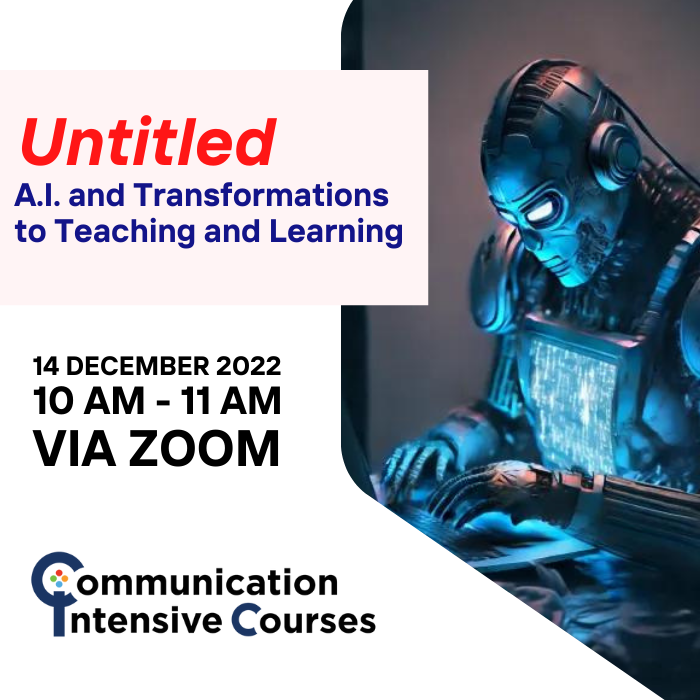 Untitled: A.I. and Transformations to Teaching and Learning
The rapid technological advances in AI deep generative models have significant and disruptive implications for teaching and learning within higher education. While there are questions and issues around academic honesty, plagiarism, creativity, and originality – the potential to enhance student learning is substantial.
Join us for this hands-on workshop as we demonstrate the possibilities of text generation (GPT-3) and text-to-image applications (Stable Diffusion, Midjourney, DALL-E-2). We hope to provoke thinking and conversations around interdisciplinary and disciplinary applications for teachers. Moreover, we hope the examples will shed light on the urgent need to re-design curriculums and assessments.
Date/ Time: 14 December 2022 (10 am – 11 am) Via Zoom
Facilitators:
Dr Jack Tsao, Associate Director, Common Core
Mr Donn Gonda, Instructional Designer, Centre for Enhancement of Teaching and Learning (CETL)
Registration: https://hkuems1.hku.hk/hkuems/ec_hdetail.aspx?ueid=85473
Open to all HKU teachers
This workshop is a collaboration between Communication Intensive Courses (CiC), Common Core, and the Centre for the Enhancement for Teaching and Learning.