Common Core & Utrecht University: The More-Than-Human-City
Transdisciplinary Research Exchange 2022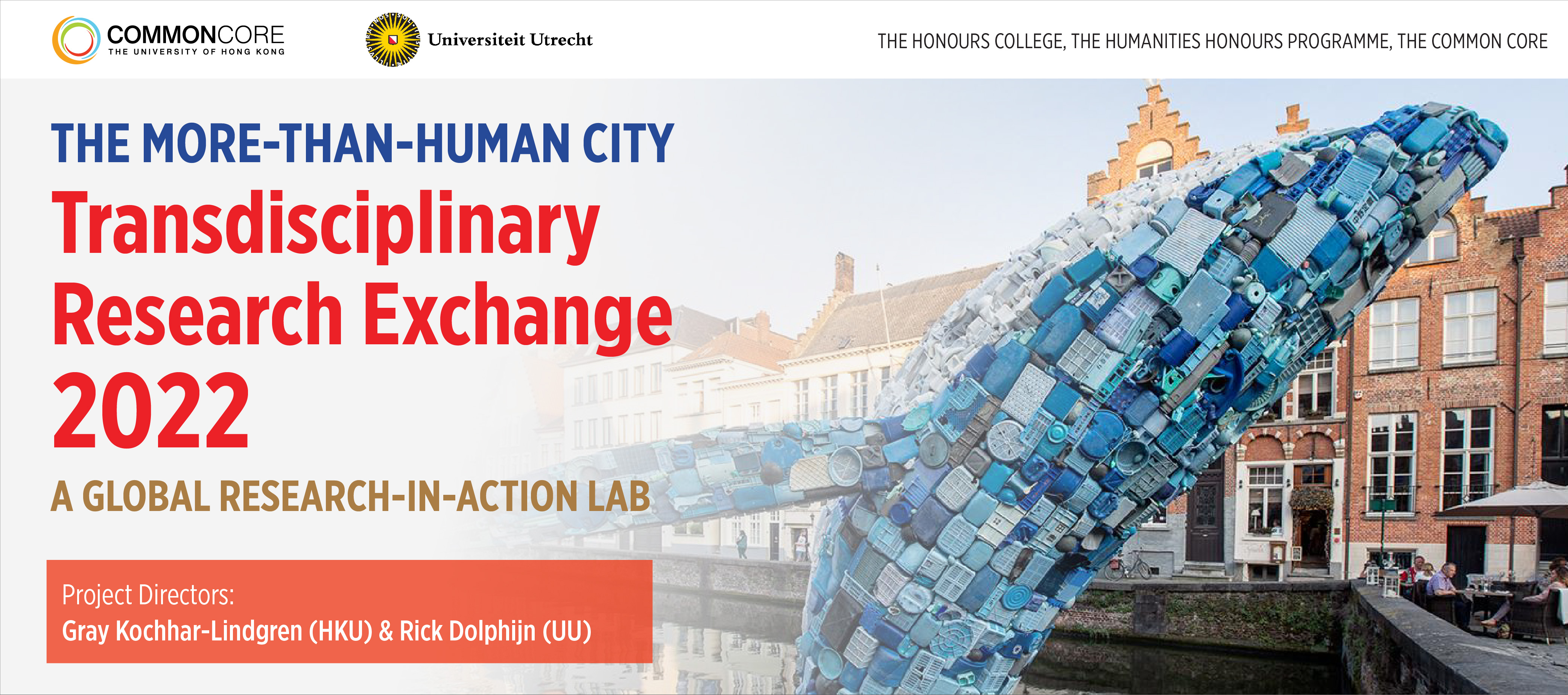 Who?

From HKU, 8 highly motivated, creative, and curious students chosen from across all the Faculties who have (i) successfully completed at least three Common Core courses with Grade B or above; (ii) obtained a cumulative GPA (CGPA) of 3.0 or above (as of Summer Semester, 2020-21); and (iii) are committed to full engagement with, and completion of, the exchange, including (if we are, miraculously, able to travel) availability during the week of Utrecht's visit to HKU and our visit to Utrecht.
The Utrecht students will be drawn from the Humanities Honours Programme.

What?

The HKU students will co-create, with their Utrecht peers, a transdisciplinary research process and archive, an 8-minute video, and a public presentation of their research and collaboration process and a summary of their videos ,In addition, each HKU student will write a 500 word reflection for a the purposes of discovery, understanding, and public visibility.
This project will overlap with the CC's Critical Zones: Gender, Cities, and Well-Being, focusing on the students' choice of an "object"—a dynamic intersection of forces—such as oil, plastics, animals, concepts, beaches, geologies, paintings, art events, micro-organisms, atmospheres, architectures, or whatever else comes to mind that is most fascinating and illuminates something about gender, cities, or well-being (three of the UN's core SDGs). There will also be a modest expectation for shared readings so that we can build our common understanding both among ourselves and with our friends in Utrecht.

Why?
To increase students' capacities for creative problem-solving and global collaboration, both virtual and physical, that produces tangible outcomes around issues that you care deeply about.
Outcomes?
The project will produce a series of tangible outcomes, including:

An increased capacity for transdisciplinary research, project-management, facilitation, presentation and media-production skills
Sophisticated cross-cultural collaboration
An 8-minute video and a 500-word analytic reflection
A public event organized around the student research process + the videos
Friendship networks (which have proven invaluable to former participants)
Certificates of Participation
2-credits from the HKU Horizon Programme (https://tl.hku.hk/out-of-class-credits/) [*These are recorded on your transcript, but are not usable for graduation credits.]

When?

Beginning in January, 2022, the group will meet approximately twice per month in the early evening in order to get to know one another, to get the research process underway. You are expected to attend each of these sessions.
The virtual collaboration between the two groups of students will begin, approximately, in early February.
If travel is permitted, Utrecht students will visit Hong Kong from (approximately) April 3-9, 2022 and the Hong Kong students will visit Utrecht from (approximately) May 29-June 4, 2022. Should this arrangement be possible, you must be available for the shared activities during the week of the Utrecht visit.

Costs?
IF WE CAN TRAVEL:

Each participant will receive a subsidy of HK$10,000. Participants will be responsible for all costs including hotel accommodation, airfare, additional insurance, visa and in-country costs, etc.
Arrangements will be made to disburse 70% (HK$ 7,000) of the subsidy to support their participation prior to their departure for Utrecht. The remaining 30% (HK$3,000) will be disbursed upon their completion of the entire programme and the submission of a final written reflection.
All participants are required to stay at the same hostel / hotel during the exchange period in Utrecht. They will be required to make a prepayment to the hotel via the Common Core Office before their departure. [The last two groups of participants stayed at StayOkay Utrecht Centrum]

IF WE CANNOT TRAVEL:

Each participant will receive a subsidy of HK$2,500 to support their research upon the completion of the project and the submission of a final written reflection.

In both cases, failure to complete the entire programme shall result in withdrawal and/or reduction of financial subsidies as determined by the Common Core Office.
How to apply and participate?
All applicants should submit a 500 word statement in which s/he demonstrates how s/he would most like to participate in a transdisciplinary research collaboration as well as how s/he would most like to serve as a change-agent in relation to the More-Than-Human-City. (Please do not assume that you have to completely understand this term ahead of time.)
In addition, please include an updated CV; a student copy of the transcript of academic record; and a photograph of yourself. (For details about obtaining a student copy of the academic transcript, please visit the website of the Academic Support and Examinations Section (http://www.ase.hku.hk/asoffice/).)
Successful applicants will be asked to sign a Common Core Transdisciplinary Research Exchange Letter of Commitment, insuring their full engagement with the project throughout the entire trajectory, including, potentially, during the Reading Week and the Assessment period. We will be happy to provide letters of request to professors if you need to miss class during the week when your Utrecht colleagues visit. (We also understand if there will be examinations that cannot be missed.)
The application materials should be sent to commoncore@hku.hk with the subject line reading Common Core Transdisciplinary Research in Action Lab.
Application Deadline: November 30, 2021 (Tuesday), 11:59 pm (No late applications will be accepted.)
Zooming to and from Utrecht: An Information Session
Host: Gray Kochhar-Lindgren, PhD, Director of the Common Core
Date: November 10, 2021 (Wednesday)
Time: 7:00pm – 8:00pm
Venue: Zoom
Programme Directors
Gray Kochhar-Lindgren, PhD, Professor & Director, Common Core, University of Hong Kong (gklindgren@hku.hk)
Rick Dolphijn, PhD, Humanities Honours Programme Coordinator, Associate Professor, Media and Cultural Studies, University of Utrecht; Visiting Associate Professor, Comparative Literature, University of Hong Kong (r.dolphijn@uu.nl)