Career Supercharge Series – "How to Grow a Million Followers on Linkedin" by Eric Sim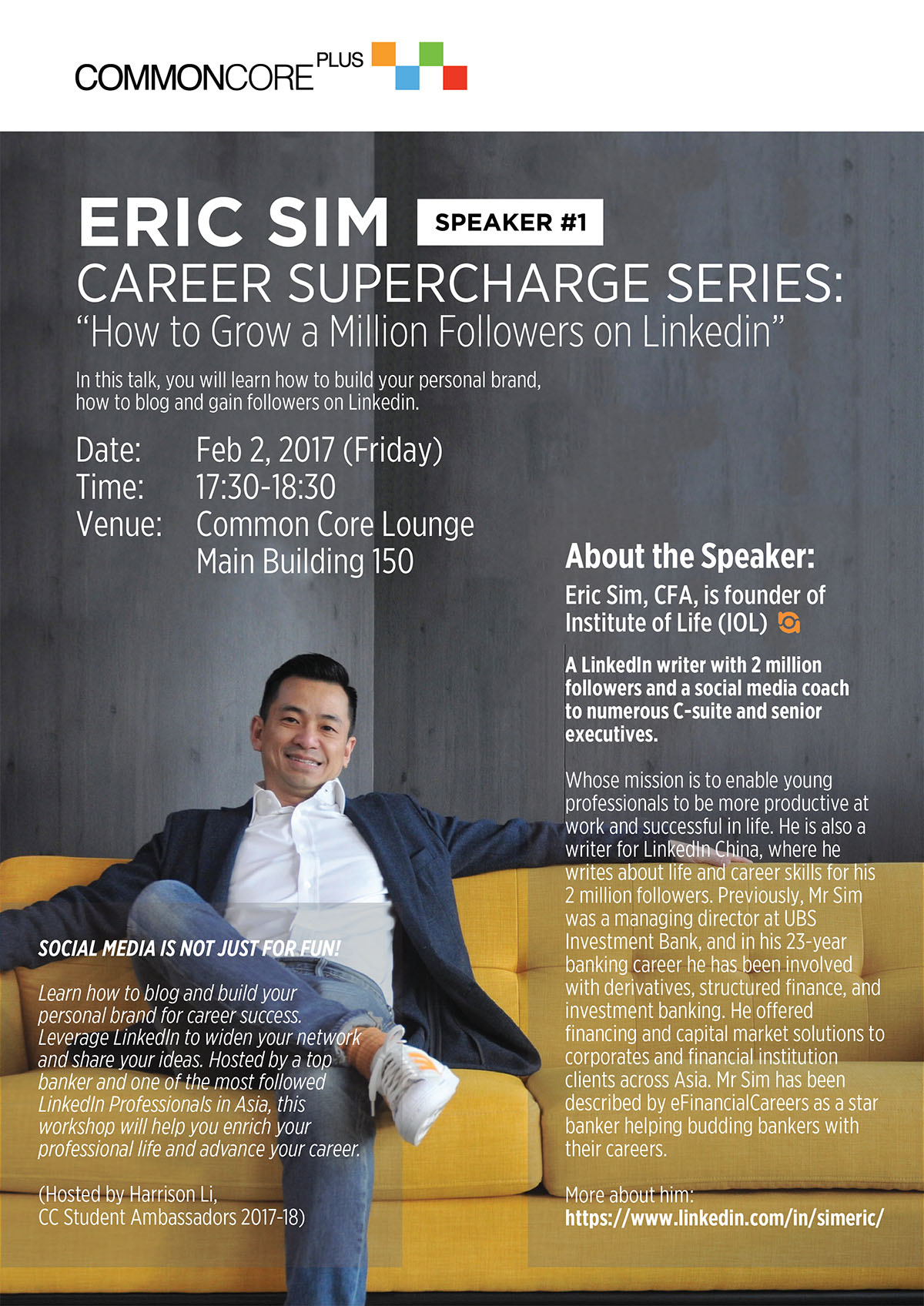 Message from Common Core Curriculum Committee
"How to Grow a Million Followers on Linkedin"
In this talk, you will learn how to build your personal brand, how to blog and gain followers on Linkedin.
Date : Feb 2, 2017 (Friday)
Time : 17:30-18:30
Venue : Common Core Lounge, Main Building 150
About the Speaker:
Eric Sim, CFA, is founder of Institute of Life (IOL), whose mission is to enable young professionals to be more productive at work and successful in life. He is also a writer for LinkedIn China, where he writes about life and career skills for his 2 million followers. Previously, Mr Sim was a managing director at UBS Investment Bank, and in his 23-year banking career he has been involved with derivatives, structured finance, and investment banking. He offered financing and capital market solutions to corporates and financial institution clients across Asia. Mr Sim has been described by eFinancialCareers as a star banker helping budding bankers with their careers. More about him: https://www.linkedin.com/in/simeric/
Social media is not just fun! Learn how to blog and build your personal brand for career success. Leverage LinkedIn to widen your network and share your ideas. Hosted by a top banker and one of the most followed LinkedIn Professionals in Asia, this workshop will help you enrich your professional life and advance your career.
Eric is a LinkedIn writer with 2 million followers and a social media coach to numerous C-suite and senior executives.
Common Core Curriculum Committee