Five Common Core Courses on Offer in the 2018 Summer Semester!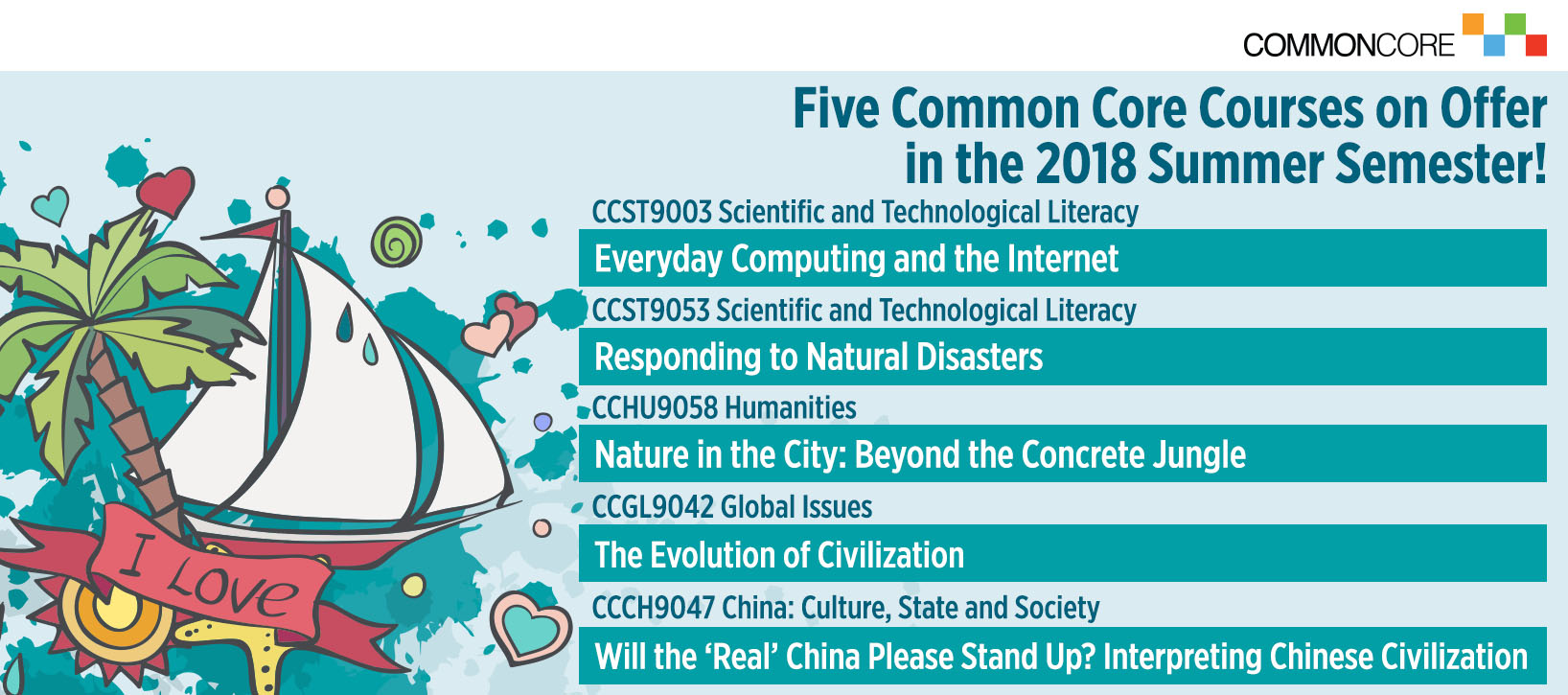 The Common Core (CC) is pleased to announce that five CC courses will be offered this summer:
'Everyday Computing and the Internet' (CCST9003),
'Responding to Natural Disasters' (CCST9053),
'Nature in the City: Beyond the Concrete Jungle' (CCHU9058),
'The Evolution of Civilization' (CCGL9042), and
'Will the 'Real' China Please Stand Up?: Interpreting Chinese Civilization' (CCCH9047).
A summary of the course details of the courses is at below.
WHO should take CC courses in the summer?
Taking CC courses in the summer would be ideal for you if you wish to get some relief from your heavy workload during the regular semesters, have a compressed format, and are interested in meeting new friends from different parts of the world.
Since the summer semester is optional, you can enroll for CC courses in the summer even if you have already successfully completed 24 credits of CC courses during the first and second semesters this year. Please note, however, that (i) the UG5 graduation requirement to successfully complete 36 credits of courses in the CC comprising at least one and not more than two courses from each AoI still applies; and (ii) CC courses cannot be taken as free electives.
Note: If you have been granted Advanced Standing and/or Credit Transfer for CC credits and are in doubt as to how many CC credits or courses from which AoI(s) you are required to complete for fulfilling the graduation requirement on the CC, please consult your home Faculty.
HOW to select courses on offer in the summer?
As with the regular semesters, CC courses are selected online through the Student Information System (SIS). The SIS will be opened for course selection during June 11 – 19, 2018 (please see http://aao.hku.hk/faculty-staff/cur-reg-date/aca-dates/ for details), and the course approval method is by auto-ballot.
* IMPORTANT: Courses with enrollments below 20 by the end of the course selection period will be cancelled. Students enrolled on a discontinued course will be notified through their HKU email soon after the course selection ends. Be sure to check your email!
Since the official SIS course selection for summer courses will not take place until June, to facilitate preparation, we would like to invite you to indicate your interest in taking CC courses in the summer by registering through the HKU Summer Institute. Here
* IMPORTANT: Registration through the Summer Institute does NOT guarantee course enrollment places. You will still need to enroll for the course(s) in the SIS and be selected by auto-ballot.
Make the Common Core your own and have a great summer!