Film Night! Americaville by Adam James Smith
21 September @ 6:00 pm

-

9:00 pm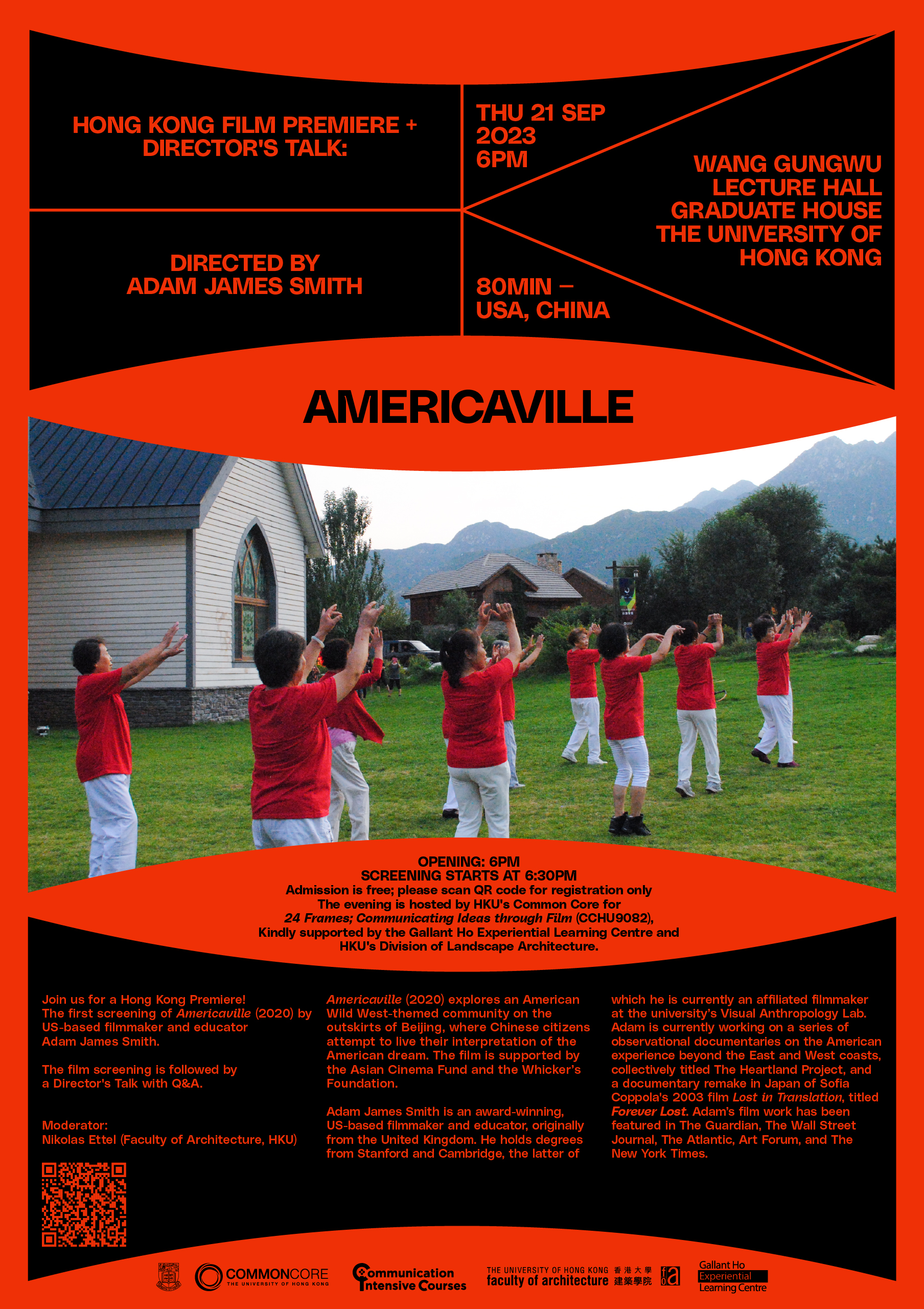 Join us for a Hong Kong Premiere!
This is a unique chance to see Americaville (2020) by US-based filmmaker and educator Adam James Smith.
The film screening is followed by a Director's Talk with Q&A.
Moderator: Nikolas Ettel (Faculty of Architecture, HKU)
Venue: Wang Gungwu Lecture Hall, Graduate House, The University of Hong Kong
Date: Thursday, September 21
Opening: 6PM
Screening starts at 6:30PM
Admission is free; please scan QR code for registration only
The evening is hosted by HKU's Common Core for 24 Frames; Communicating Ideas through Film (CCHU9082) and kindly supported by the Gallant Ho Experiential Learning Centre and HKU's Division of Landscape Architecture.
Americaville (2020) explores an American Wild West-themed community on the outskirts of Beijing, where Chinese citizens attempt to live their interpretation of the American dream. The film is supported by the Asian Cinema Fund and the Whicker's Foundation.
Adam James Smith is an award-winning, US-based filmmaker and educator, originally from the United Kingdom. He holds degrees from Stanford and Cambridge, the latter of which he is currently an affiliated filmmaker at the university's Visual Anthropology Lab. Adam is currently working on a series of observational documentaries on the American experience beyond the East and West coasts, collectively titled The Heartland Project, and a documentary remake in Japan of Sofia Coppola's 2003 film Lost in Translation, titled Forever Lost. Adam's film work has been featured in The Guardian, The Wall Street Journal, The Atlantic, Art Forum, and The New York Times.
We look forward to see you all there!