Join-the-Conversation: Assessment in the Common Core Curriculum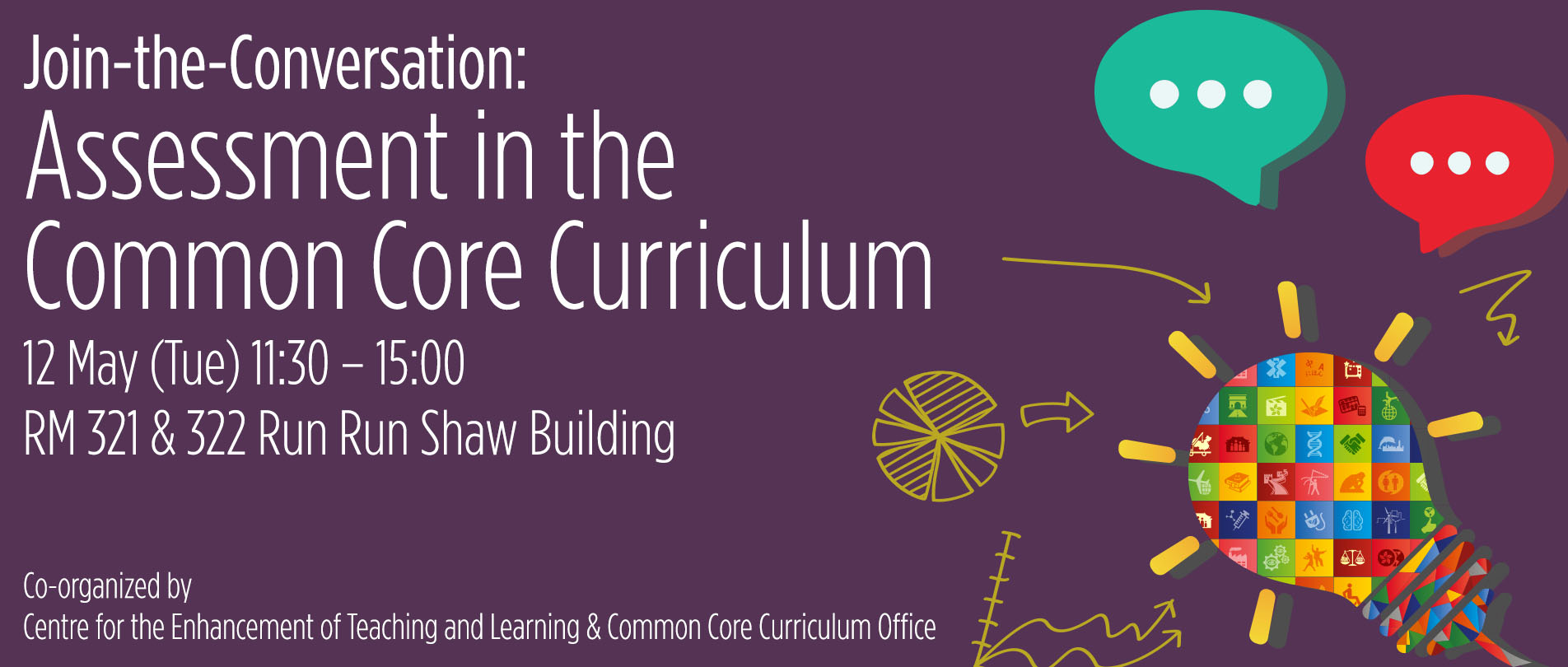 Co-organized by Centre for the Enhancement of Teaching and Learning and Common Core Curriculum Office
Panel-led discussion session 1: Assessing in-class participation
Date: 12 May (Tue)
Time: 11:30 – 12:45
Venue: Rm 321 & 322 Run Run Shaw Building
Panellists: Dr. S.J. Aiston; Professor A. Djurisic; Professor Y.K. Kwok
Panel-led discussion session 2: Assessing presentations and groupwork
Date: 12 May (Tue)
Time: 13:45 – 15:00
Venue: Rm 321 & 322 Run Run Shaw Building
Panellists: Professor H. Corke; Ms. T.Y.C. Kee; Dr. S.Y.W. Shiu
Co-chairs:
Professor Grahame Bilbow, Director of Centre for the Enhancement of Teaching and Learning, HKU
Professor Dai Hounsell, Vice Principal for Assessment and Feedback, University of Edinburgh
Professor Gray Kochhar-Lindgren, Director of the Common Core Curriculum Office, HKU
Abstract:
As part of the 'Wise Assessment Community of Practice' project, CETL has been working with teachers across the University of Hong Kong to identify and surface particularly effective assessment practices that are currently being used within the University.
At this first 'Join the Conversation' event, we should like to take the opportunity to share with you some of our preliminary findings regarding effective approaches to assessment within the Common Core Curriculum, specifically in connection with the assessment of in-class participation, presentations and groupwork. To date, we have conducted informal interviews with seventeen Common Core course teachers and tutors, and compiled three Wise Assessment Briefings, detailing a range of assessment practices that take place in Common Core courses.
In the two panel-led discussion sessions, our panellists will outline assessment practices in their Common Core course(s) and invite questions and discussion. Copies of the Wise Assessment Briefings will be provided for participants.
About the panellists:
Dr. S.J. Aiston, Assistant Professor, Division of Policy, Administration and Social Sciences Education, Faculty of Education, Course Co-ordinator and Teacher of CCHU9043 "Thinking" Women: Their Oppression and Resistance
Professor H. Corke, School of Biological Sciences, Faculty of Science, Course Co-ordinator and Teacher of CCGL9016 Feeding the World and CCGL9017 Food: Technology, Trade and Culture
Professor A. Djurisic, Department of Physics, Faculty of Science, Course Co-ordinator and Teacher of CCST9038 Science and Science Fiction
Ms. T.Y.C. Kee, Assistant Professor, Department of Architecture, Faculty of Architecture, Course Co-ordinator and Teacher of CCHU9037 Street Sense: The City and its Environments
Professor Y.K. Kwok, Associate Vice-President (Teaching and Learning), Associate Dean of Engineering, Course Co-ordinator and Teacher of CCST9003 Everyday Computing and the Internet and CCST9015 Electronic Technologies in Everyday Life
Dr. S.Y.W. Shiu, Associate Professor, Department of Physiology, Li Ka Shing Faculty of Medicine, Course Co-ordinator and Teacher of CCST9006 Biomedical Breakthroughs in a Pluralistic World
Interested participants are welcome to attend either or both of the sessions.
Hot lunch will be provided.
---
For information on registration, please contact Ms Ivy Lai by email laichun2@hku.hk.