Common Core: Women+Film – Exploring the TransDisicplinary University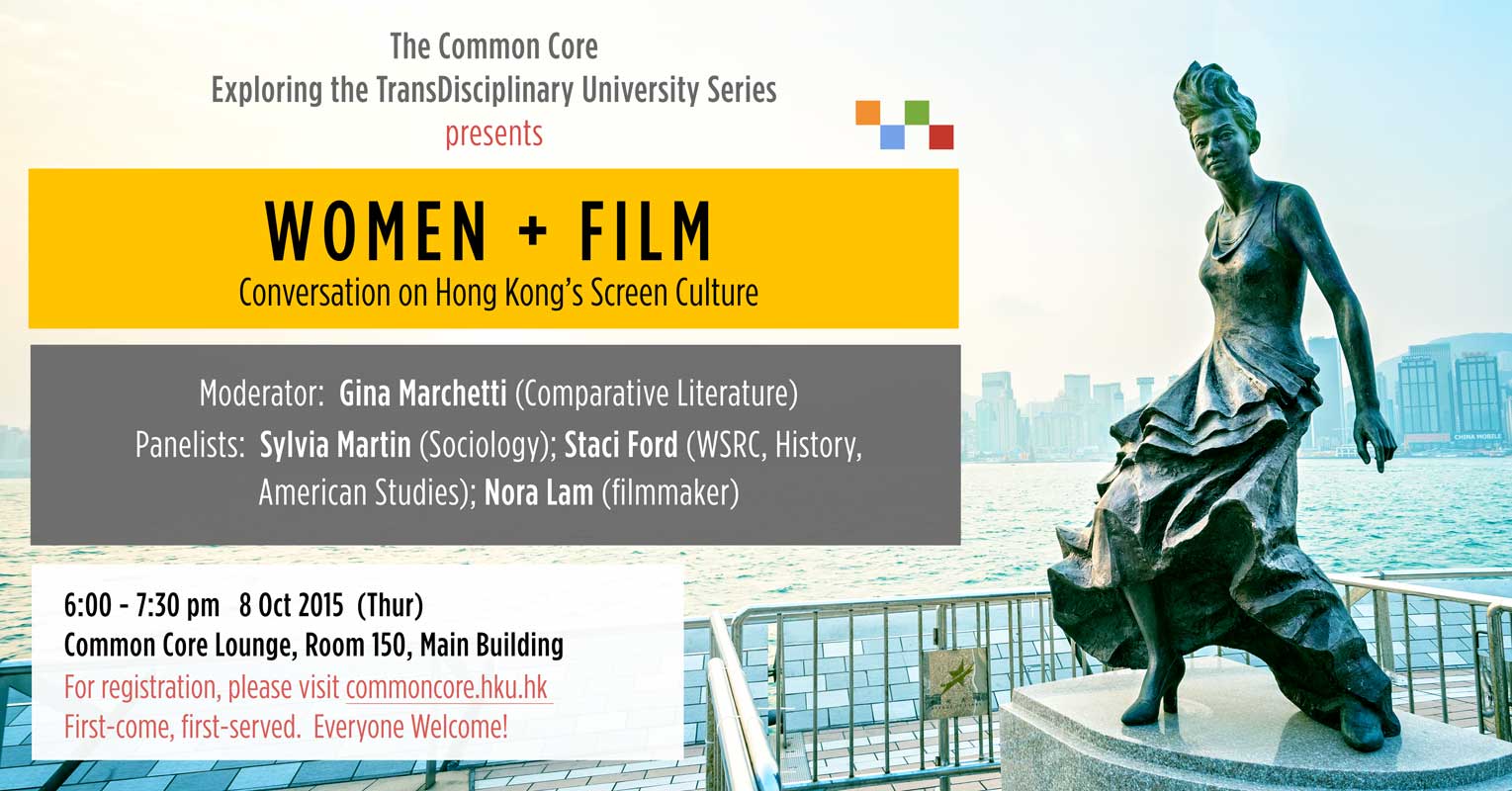 Moderator: Gina Marchetti(Comparative Literature)
Panelists: Sylvia Martin(Sociology), Staci Ford(WSRC, History, American Studies), Nora Lam(Filmmaker)
Date: 8 Oct 2015
Time: 18:00-19:30
Venue: Common Core Lounge, Room 150, 1/F Main Building
This conversation takes up the question of women's representation in Hong Kong cinema by looking at both the onscreen and behind-the-camera involvement of women locally and globally. After a brief introduction of some of the consequences of the dearth of women in film, we will invite our panelists (involved in research on labor conditions in the film industry, in teaching in the Common Core, and in student filmmaking and criticism) to comment on the state of women in film. The conversation continues with comments and questions from the floor about women in Hong Kong and Hollywood movies.
Men dominate the global film industry, and Hong Kong offers no exception to this general rule. In Hollywood, which enjoys the lion's share of the world's box-office returns, women take the leading role in only 12% of the features made in 2014 (Center for the Study of Women in Television and Film). The same year the number of women directing Hollywood films declined by 2%. In 2014, as in most recent years, Hollywood dominated Hong Kong screens with eight of the ten most lucrative films coming from the United States. Of those, MALIFICENT was the only one with a female protagonist, and GOLDEN CHICKEN 3 was the only Hong Kong film to break the top ten with a female lead. (Box Office Mojo). Although leading lady Sandra Ng also produced GOLDEN CHICKEN 3, no film in Hong Kong's top ten boasted a female director. Ann Hui's acclaimed biography of female author Xiao Hong, THE GOLDEN ERA, came in at 100 out of the 100 listed for 2014. What's going on?
Should you have any enquiries, please feel free to contact Emily Chan by email at (chiting@hku.hk).