Common Core: HKU Coding Camp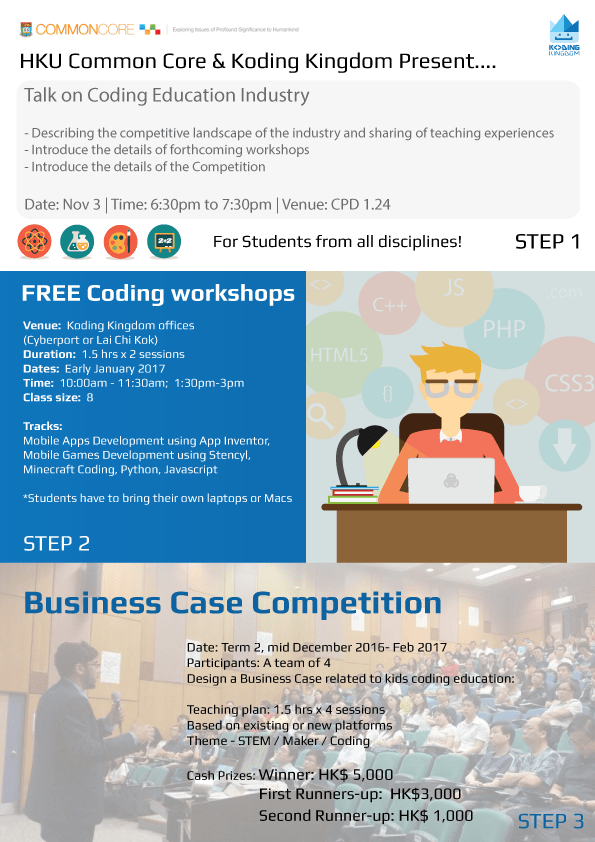 As one means of supporting transdisciplinary work for students across the entire campus, the Common Core, in partnership with Koding Kingdom – one of the largest and most seasoned kids coding academies in Hong Kong – will host a series of free talks and coding workshops tailored for HKU students from all disciplines, who may or may not possess coding knowledge but are keen on exploring how it works in the larger world, as well as opportunities for teaching coding to kids as a professional career.
Koding Kingdom will be providing professional advice and guidance in coding education. Students will be introduced to the competitive landscape of the coding education industry and learn about mobile apps / games development, Minecraft coding (Python / Javascript) in the talk and workshops. Upon successful completion of the course, students will earn a certificate of completion.
Make sure you join the Business Case Competition, too, to win a cash prize up to HK$5,000!
Step 1
Talk on Coding Education Industry
Date: November 3, 2016 (Thursday)
Time: 6:30 pm – 7:30 pm
Venue: CPD-1.24
ALL ARE WELCOME
Step 2
Free Coding Workshops
Dates: Early January, 2017
Time: 10:00 am – 11:30 am; 1:30 pm – 3:00 pm
Venue: Koding Kingdom Offices (Cyberport / Lai Chi Kok)
Step 3
Business Case Competition
Date: Mid December, 2016 – February, 2017
For registration and enquiries, please contact info@kodingkingdom.com Tel: +852 3706 8918 & +852 3706 8916 WhatsApp: +852 9224 6986.
REGISTER NOW!