Distinguished Lecture: Looking Forward to the Next 10 Years
18 May, 2022 @ 12:00 pm

-

1:15 pm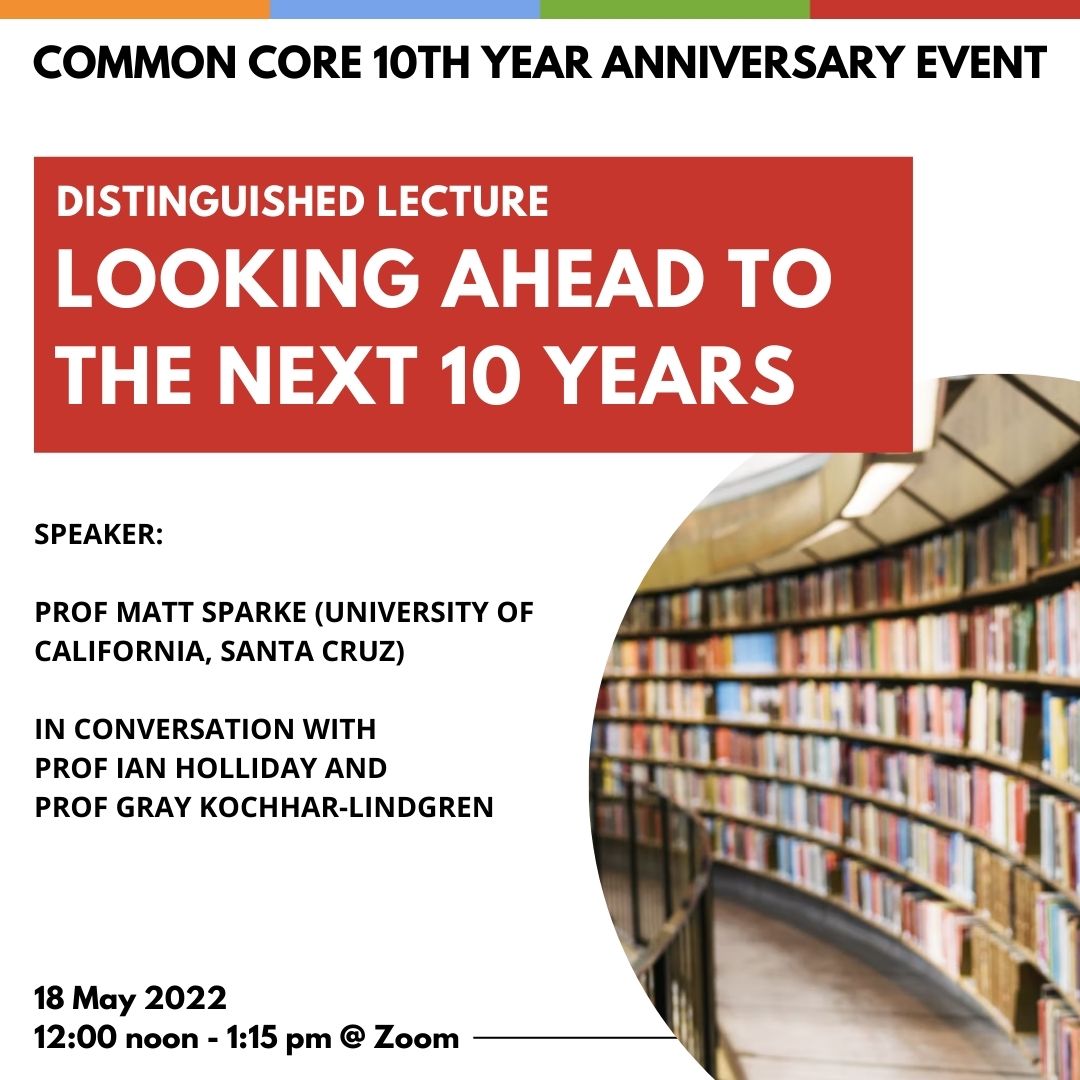 Title of Lecture: Navigating Globalization: 21st Century Survival Skills & the Future of the University
Speaker: Prof Matt Sparke, Executive Director of Global and Community Health, University of California, Santa Cruz
In conversation with:
Professor Ian Holliday, Vice-President and Pro-Vice-Chancellor (Teaching and Learning), HKU
Professor Gray Kochhar-Lindgren, Director of the Common Core, HKU
The Common Core Distinguished Lecture, which celebrates our 10th Year Anniversary, will be given by Professor Matt Sparke, Executive Director of Global and Community Health, Department of Politics, at the University of California-Santa Cruz. Professor Sparke, who also served as the Programme External Examiner for the Core, will help us think together about how students and colleagues can best navigate the turbulence of globalization; how the University as a future-oriented institution might best respond; and how we might all develop more nuanced capacities not only for survival, but for the emergence of a new flourishing of contemporary life.
The session is open to the public. Join us and register today.
About the Speaker:
Matt Sparke is Professor of Politics and Executive Director of Global and Community Health at the University of California Santa Cruz.  His work concerns the changing geography of politics and citizenship in the context of globalization, including their implications for global health in particular. His recent research has been focused on what he calls 'biological sub-citizenship' in the context of  health challenges such as COVID and the political-economic forces that intensify the damage that they inflict on society.  One example of this is his current work on the copathogenesis of COVID as a syndemic, including all the exclusions from immunization created by the patent-based monopolies on vaccine IP.  More links to his publications can be found at his USCS website.